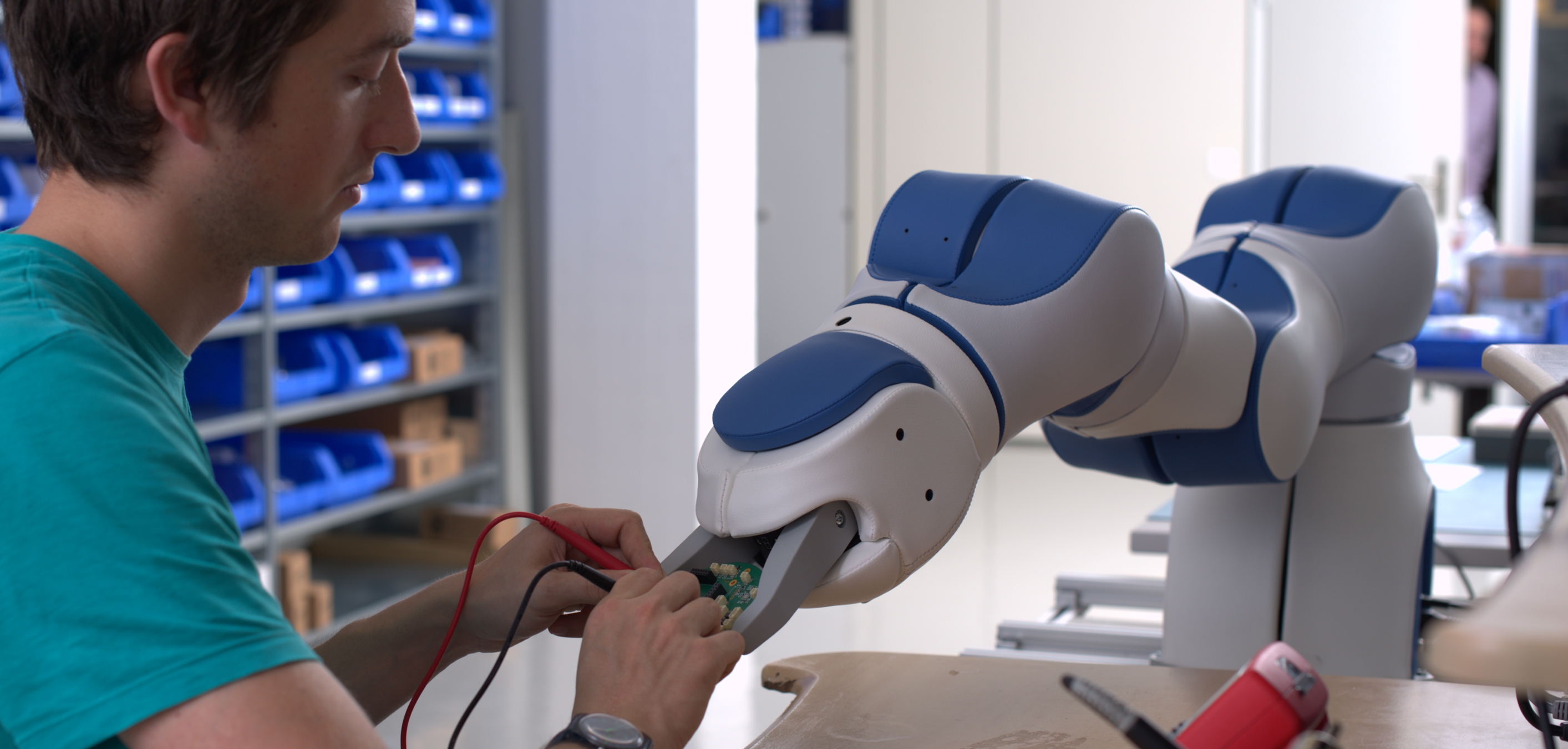 P-Rob
Collaborative robots for a variety of tasks and industries

The core element of the F&P Robots is the robot arm "P-Rob", whereas "P" stands for "personal". The the latest version P-Rob 3 is available since August 2019. Together with sensor-equipped grippers, cameras, linear axes, holders, cases, additional software modules and interfaces, it can be used for a variety of applications with high requirements. P-Rob is a robotic arm available in different variants (Power input: AC or DC, Operating voltage: 24V or 48V, different color combinations). This flexibility allows the robotic arm to be adapted to various needs and facilitates its integration and acceptance by operators.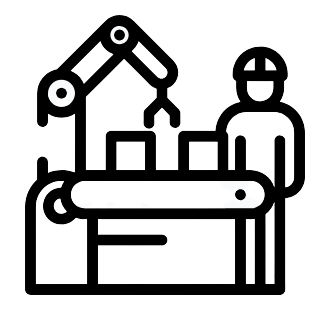 Collaborative and safe

Easy Handling

Flexible Deployment
Robot Arm 2R 24V
Limited forces for an intrinsically safe collaboration with humans without additional safety measures
Application Field: Personal Service Robotics, Education, Home Care
Operating Voltage: 24V
Standards: ISO 12100, ISO 10218-1, ISO/TS 15066, ISO 13482
TECHNICAL SPECIFICATIONS
Robot Arm 2R 48V
High performance for collaborative industrial applications with high efficiency requirements
Application Field: Industrial applications
Operating Voltage: 48V
Standards: ISO 12100, ISO 10218-1, ISO/TS 15066, ISO 13482
TECHNICAL SPECIFICATIONS
P-Rob Setup
P-Rob Integration
P-Grip® 2
P-Grip's broad capability to grasp objects of various hand-size shapes makes it ideal for applications dealing with a variety of objects. Applications requiring sensor data fusion techniques are essential in today's automation tasks. The P-Grip concept combined with myP software easily allows integrating sensors and vision systems.
P-Grip is a modular angular 2-finger gripper concept including motor, gears and control board with position, velocity and torque control, which can be mounted either straight on top of the P-Arm (180° mounting) or in a right angle position with the arm (90° mounting). The outside parts of gripper body and fingers are realized with soft materials, so that direct cooperation with humans is safe, as long as the manipulated objects are not dangerous themselves.
The basic structure of P-Grip is made of aluminum. The gripper is coated with a synthetic hull and covered by a soft, non-conductive, protective isolation material. This prevents rigid contact between the gripper body and the user. The gripper contains a mechanical stop on either side to limit the angular or linear range of motion and prevent unintentional movements.
Many tasks, a robot has to perform, require different manipulations with optimized tools. In order to enable a smooth automated process, F&P provides a standard full-finger gripper version, which is designed for optimal grasping of a huge variety of objects. In case of frequent application changes with different shapes of the parts to be grasped, the full-fingers can be replaced by a finger-base and exchangeable fingertips. The fingertips can be optionally equipped with task-specific sensors, e.g., encoders, torque and proximity sensors. Multiple sensor integration is available, through the use of a multichannel interface implemented in the P-Grip body. Additionally, a vacuum gripper is available for specific handling tasks.
P-Grip V is a soft covered vacuum gripper with two independently controllable suction cups.
Cognex Module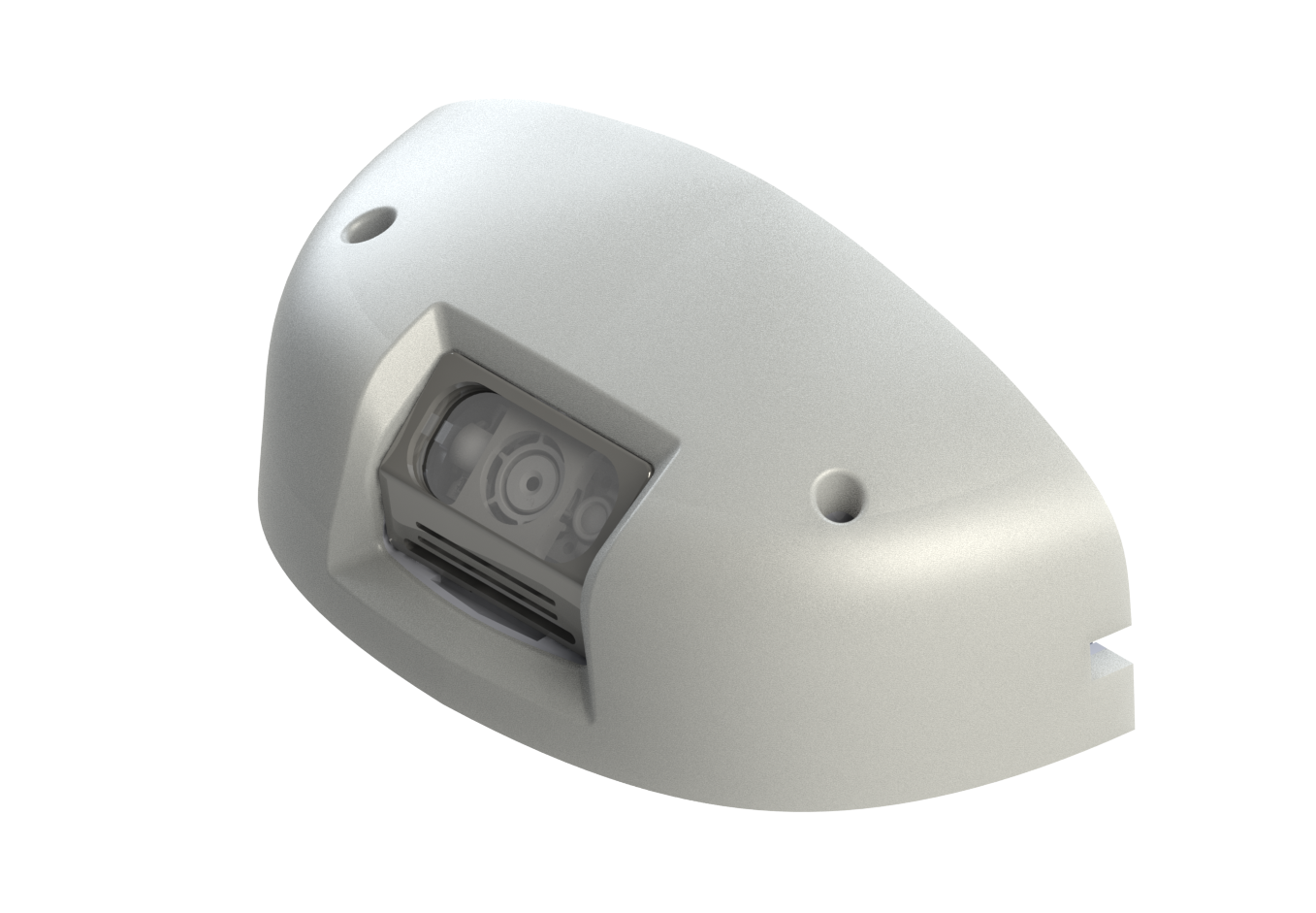 Cognex is an industrially proven, integrated camera module for use with P-Rob and myP.
It can be used for detection and localization of pre-defined geometries or trained patterns. As well as visual inspection and quality control tasks. The module can be seamlessly integrated with a P-Grip 2, but can also be statically mounted externally.
F&P Robotics offers a software add-on to read camera data with myP. The detection/inspection job is being programmed in the usual Cognex interface. Only the processed data is then exposed to the myP user.
F&P Robotics uses the Cognex module in industrial settings, where the camera position at the time of recording doesn't change.
End Tool adapter
This universal End Tool adapter allows the mechanical mounting of third party grippers. The adapter is quickly fixed on the robot arm P-Rob2 with a one-screw system.
Software
myP-Interface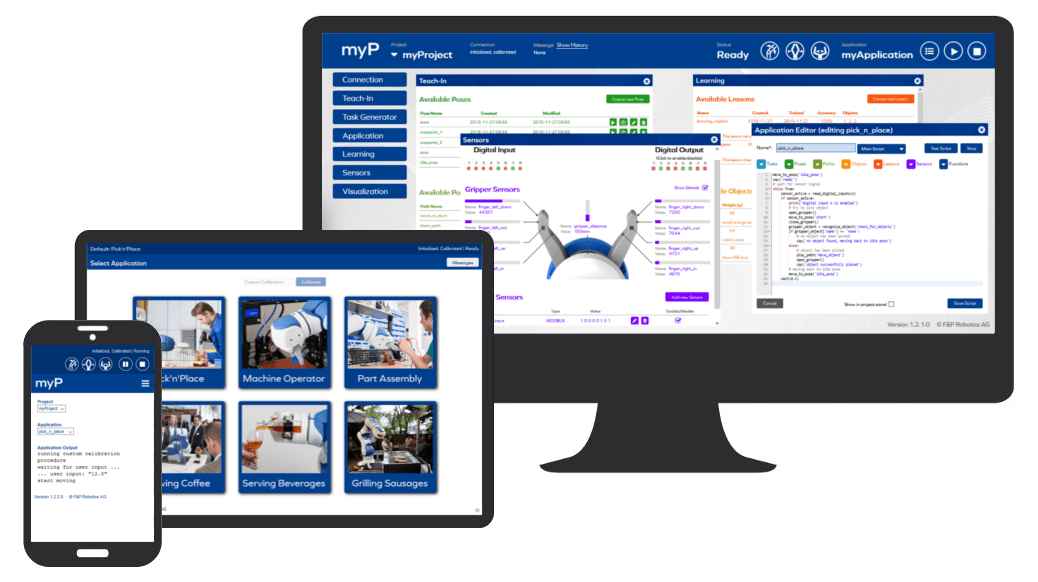 myP is a web browser based intuitive user interface enabling control of P-Rob and P-Grip. The software platform relies on real-time webserver as communication framework and an integrated database for fast access and data storage. myP provides core control functions including direct and inverse kinematics, advanced algorithms addressing learning and context awareness as well as teach-in functions
myP offers a Graphical User Interface (GUI) where most of the common tasks do not need any programming skills (e.g., path teach-in, movements, training patterns, picking objects). The control of the robotic arm and its peripherals (gripper, camera, movable base, etc.) is hosted by a real-time web server, which runs locally in the background.
There is no need to download a specific software module to give authorized users an intuitive and interactive access to the full power of the robot arm (P-Rob) and the gripper (P-Grip). myP web app is available by simply opening the web browser of electronic devices like laptops, tablets and smartphones. P-Rob's embedded PC provides a convenient WiFi network for connection.
ROS-Package
A P-Rob bought with the special Research Package can be controlled directly with myp_ros.
Our research optimized PRob supports a direct ROS connection to the backend allowing users to send command and receive information at much higher rates. This ROS package is "myp_ros" and contains everything you need to start integrated PRob into your ROS environment. Check it out: https://github.com/fp-robotics/myp_ros
Options
Suitcase
To make the transportation as convenient as possible, we provide optionally a suitcase with tailor-made protective foam for robot arm, gripper body and fingers as well as power supply.
Floor Plate
Steel plate 550 x 550 x 10 mm (23.5 kg) zinc plated with 2 hand grips, for
mounting the robot.
P-Solution
Customer-Specific Solutions
The F&P Team provides the possibility to adapt the products and the design according to the wishes and needs of the customer. Furthermore, F&P conducts feasibility studies for customer projects.
Training and Support
F&P and/or its local partners offer training sessions and support adapted to the specific needs of our customers.
Service and Warranty
To ensure that your application runs smoothly and your F&P Robotics product is best taken care of, we offer a variety of services. After the regular or extended warranty period we offer preventive maintenance service contracts that take care of your service needs and will significantly prolong the life of your investment.
Applications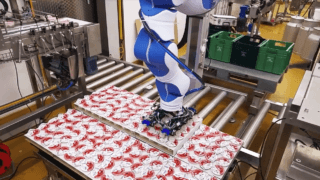 Food Packaging
Automation of the packaging  process of yoghurt glasses guaranteeing intrinsic protection for employees and higher levels of productivity, while fulfilling the pureness requirements of the food industry.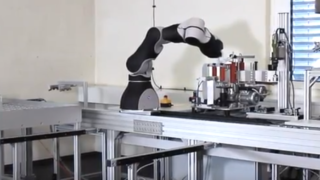 Bottling of Liquids
In the fully automated process P-Rob is installed on a linear axis and fills liquids in bottles, closes the bottle cap, pins the tag and places the bottles back in the storage. This allows an enormous reduction of cycle times.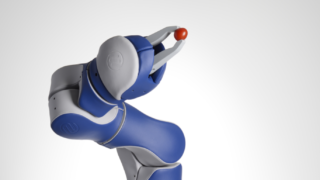 Food Handling
With his sensitivity and the reduced forces P-Rob is the ideal robot for applications in the area of food handling. The integrated sensors and camera module allow to grasp even very fragile and soft objects.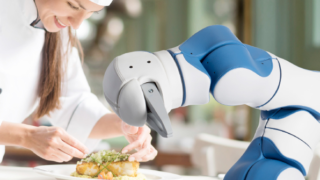 Food Preparation
P-Rob is ideally suited for preparing meals in restaurants and canteens. His  position repeatability of 0.1mm and his payload of 3 kg allow for very accurate working. The soft cover protects coworkers and also the robot itself.
References
Bottling of Suspension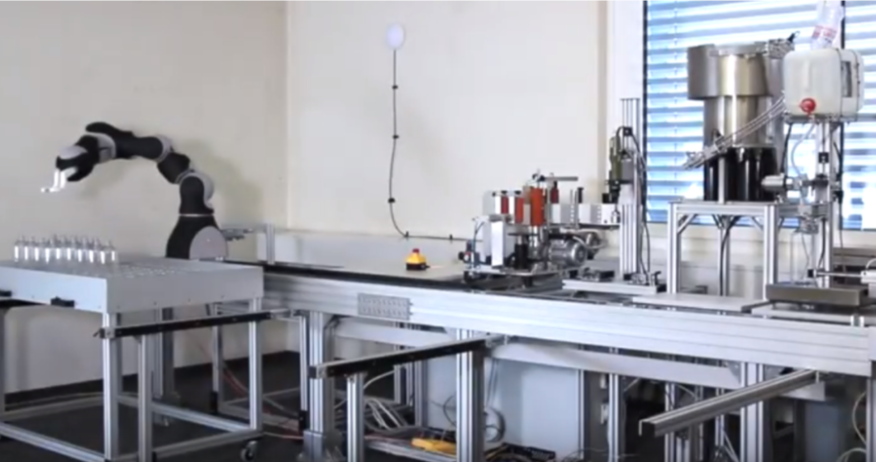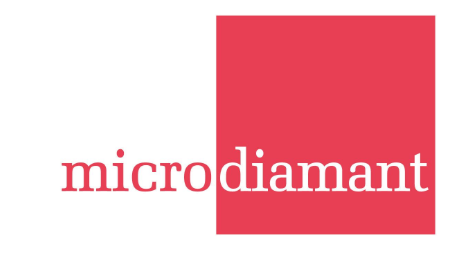 For efficiency reasons a bottling process was to be automated where bottles in different sizes needed to be filled. Therefore, P-Rob was installed on a linear axis. Since diamond slurries are very sophisticated and expensive fluids, accuracy in the production process is very important. P-Rob guarantees very high-quality processing of the products.
Packaging of Bio-Dairy Products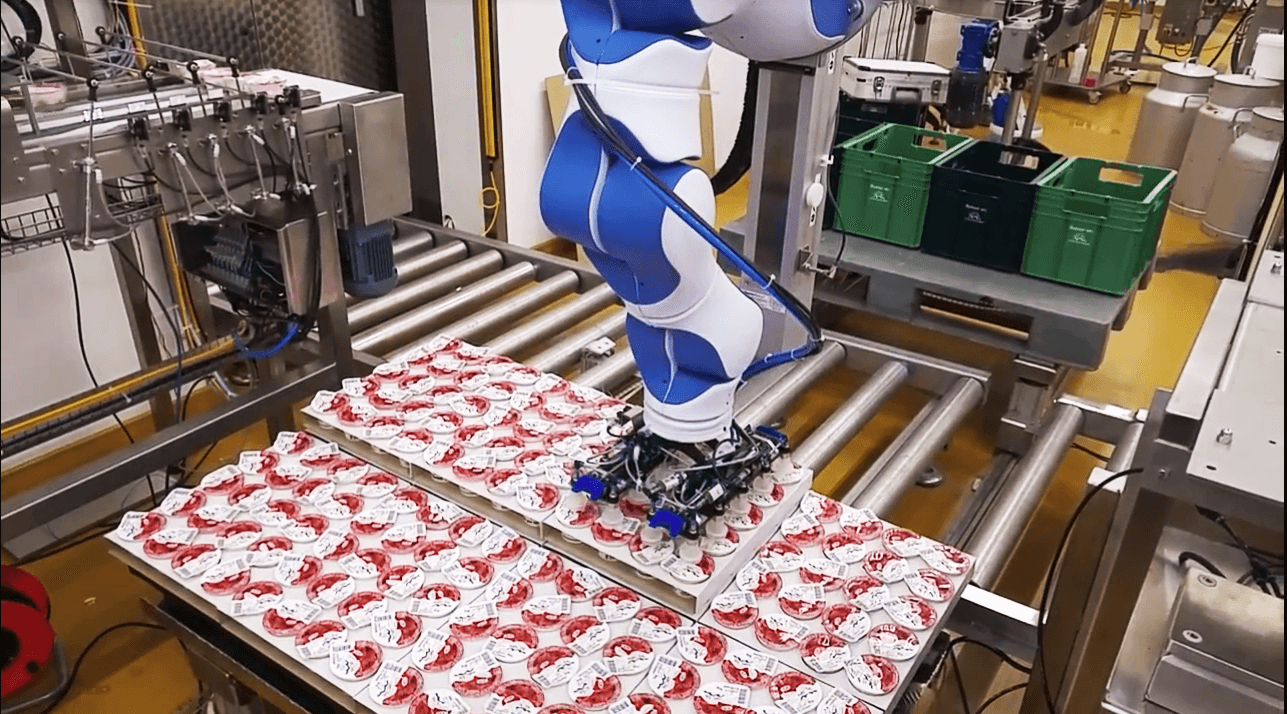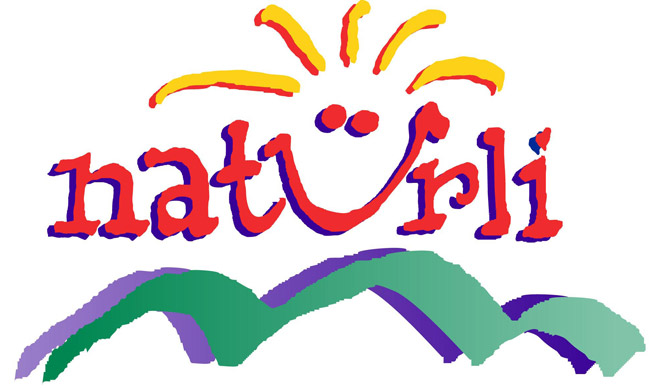 The task was the automation of the packaging process of yoghurt glasses guaranteeing intrinsic protection for employees and higher levels of productivity, while fulfilling the pureness requirements of the food industry.
The engineering process had to foresee a mobile solution (linear axis) combined with a complex and high frequency manipulation.
Testing Electronic Circuit Boards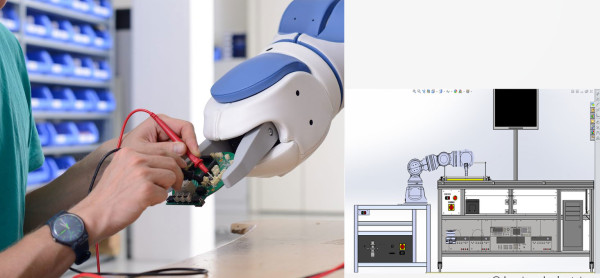 The task was the automation of the time sensitive electrical testing of automotive electronic circuit boards. This requires pick & place of the boards, sorting them according to the test result as well as opening and closing of the cover. The electrical testing process has been automated implementing a 5-axis collaborative robot P-Rob®.
Blister Thickness Measurement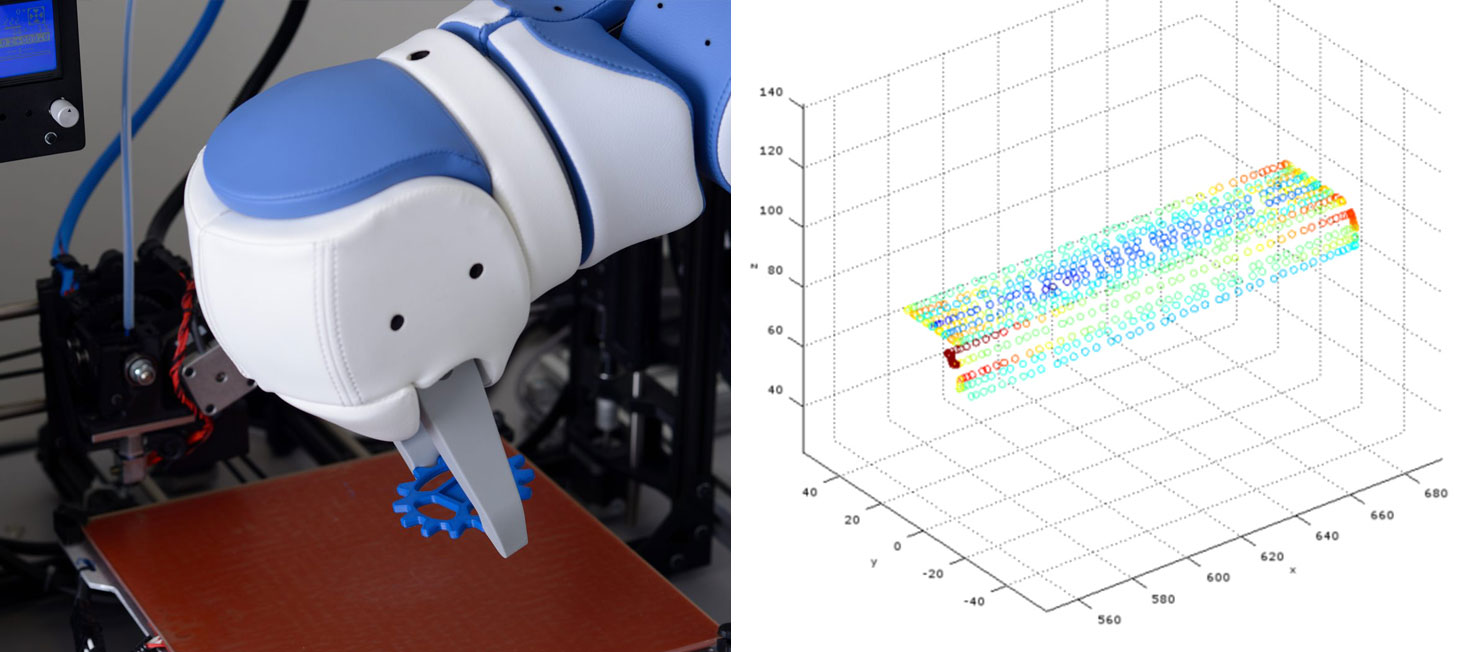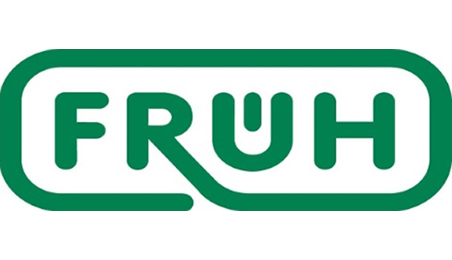 The task was to automate the measuring of the thickness of thin, transparent blisters by a collaborative robot. The implemented product is a P-Rob® 1R equipped with a magnetic measuring stick, mounted to the gripper flange of the robot.
Contact
Discover our personal robots and their benefits for you.
Phone: +41 44 515 95 20
E-Mail: info@fp-robotics.com